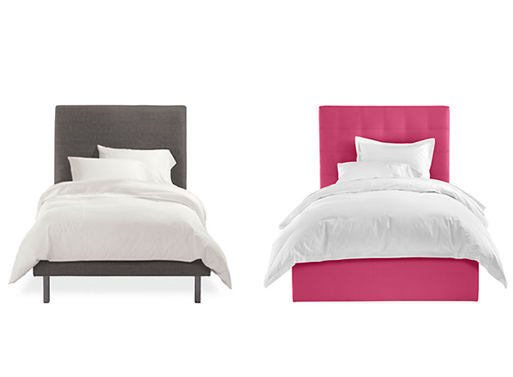 Some friends of mine have asked for help in finding acceptable twin beds for their children, so I sat down and combed through a few retailers to find some good possibilities. Just in case you're in the same boat, here are a few of my recent bookmarks. In most cases, fabrics and colors may be customized, and, in some cases, trundles added, so click on the retail links to see all the options.

Shown above:
left: Ella Twin Bed, $1,199.00
right: Avery Twin Storage Bed, $1,699.00
Both from Room&Board.

left: Royal Canopy Bed, $1,399.00 – $1,599.00 from Land of Nod
right: Architecture Twin Bed, $999.00 from Room&Board

left: Hush Twin Bed, $1,299.00
right: Nook Twin Bed, $1,299.00
Both from Blu Dot.

Alex Symmetric Platform Bed from ducduc, $1745.00 and up

left: Presidio Day Bed With Trundle, $2,250.00 from Serena & Lily
right: Silhouette Upholstered Daybed, $999.00 from Land of Nod

left: Eicho Twin Bed, $875.00 from YLiving
right: Alex Bed, $799.00 from Pottery Barn Kids

Station Twin Bed, $999.00 from Blu Dot

If you're looking for a specific piece of furniture, you can email me (contact(at)betterlivingthroughdesign(dot)com) and I'll do my best to find you some options.