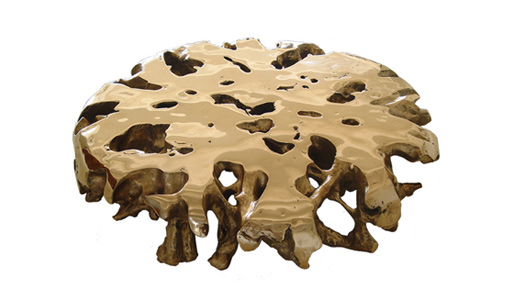 I'm looking to replace my coffee table, and, as luck would have it, I ran across this one. It only costs fifty five thousand freaking dollars. What a steal. I could pay for a small house or a nice luxury car, or I could buy this coffee table…decisions, decisions. (To be fair, it's amazing, only 6 exist, and it's entirely cast bronze, so sure, it's worth a lot…yet I still think it crosses into the bounds of extreme excess.)
Limited edition of 6. Quite literally taking a slice out of the outdoors. The indescribable beauty of this natural teak root cast entirely in bronze creates a striking and exquisite balance between nature and modern design. Please allow 4-6 months for delivery. Bronze. 750 pounds. 57″ x 12″.
$55,000.00, Buy it here.