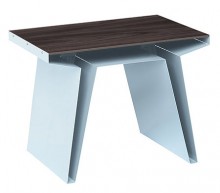 This little table is pretty neat. It's a ready-to-assemble type of thing. It arrives flat and you bend it into its shape. There's a coffee and console table too. And! If you like robin's egg blue, you've got that option for the base as well.
Steel frame, wood veneer top.
26″ w | 19″ d | 20″h
free shipping in the continental U.S.