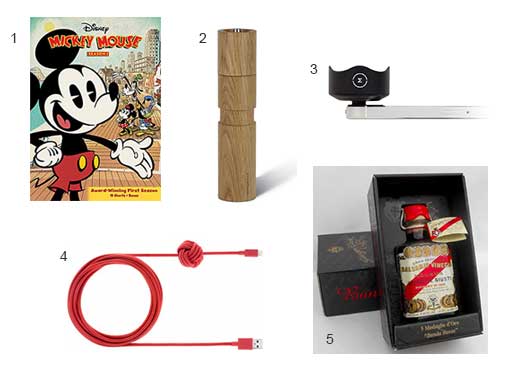 Stefan Boublil, the creative director of the apartment, is next to share his wish list of gifts to give/receive this holiday season. Thank you, Stefan, for taking the time to share. (If you'd like to share your list, just send us 5 to 10 links to items you want to give or get.)
Stefan's own words:
I must confess I have been extra-naughty this year, what with all my coveting thy neighbor's wife, restraining orders and whatnot. That is why I am expecting mostly compressed carbon this christmas, which doesn't mean all my wishes should go to waste, so here they are, in the hope you may partake in the joy I am forbidden by court order to relish in :
1. First of all, somebody made new, old-style Mickey Mouse cartoons ($8.96) and no one told me? Shame on all of you!
2. Instead of merely crushing pepper like a common thug, this beautiful wooden mill laterally slices it, for increased flavor and something to talk about at dinner other than arguing, again, about what the plural of Focus is*: Molino Pfeffermühle Eichenholz, € 95.00
3. In researching new gear for my annual get-out-of-the-freezing-cold January trip, I looked far and wide for the best, distortion-free iPhone lenses available and Moment delivered, right on time: Moment Lens, $99.99
4. Good design is often a simple functional idea, executed with beauty. Such is a mere weighed knot in your iPhone cable, preventing its fall off your already crowded night table and subsequent cursing-at-the-gods you didn't get AppleCare: Night Cable, $39.99
5. Living now only a few minutes from Modena, Italy, I went looking for the best Balsamic vinegar money could buy and I found the oldest producer in the world, founded in 1605 and, amazingly, available on Amazon for your convenience: Giuseppe Giusti Banda Rosa Balsamic Vinegar of Modena, $75.00
6. A trauma (see #4) you might do away with completely if you only used a dock of course: Spool Dock, $65.00
7. I want this life-size flasher Gremlin ($239.99) from Gremlins 2 because it is a life-size flasher Gremlin from Gremlins 2, don't argue with me.
8. Under a crisp white shirt in daytime and all by itself at night is how I imagine my perfect birthday going in the company of my wife and Sophie Hines' Intersect Elastic Harness ($28.00).
9. If you read this blog, you are a person of discerning taste and probably have a good pair of speakers in your home so don't bother with those crappy underpowered bluetooth ones just to stream from your phone, instead, connect what you already have: ROCKI, $49.00
10. And finally, four years ago, while still in NYC and in order not to go insane, I peeked within the layers of my time so far experienced and attempted to analyze what I saw. In doing so, I dug up a process to question everything, a method for sanity which I have named The Considered Life. This year, I published. So if you will allow this bit of self-promotion as my last wish, here it is, for your consideration:
For iOS: The Considered Life
For Kindle: The Considered Life
* Foci
Tags: Gift Guides, Gifts