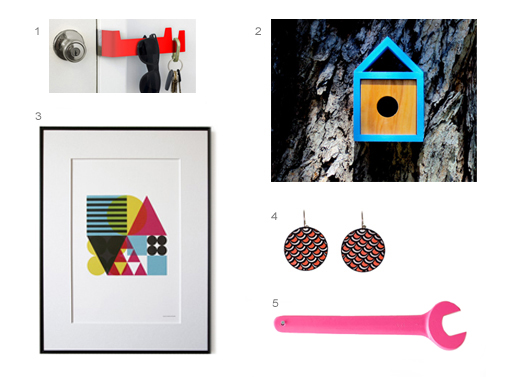 Our next installment of gift ideas is from Rena Tom, the founder of Rare Device (such a nice shop) and all around know-it-all (in a very good way) when it comes to running creative businesses.
She has picked 5 brights and 5 neutrals to share with you today:
1. Strikey by Objeti, $39.95 (i love the red one)
2. Danish Modern Chalet Birdhouse by Burd-Haus, $69
3. Geometric Shapes poster by Honey & Bloom, $25
4. Flake 2 earrings by Molly M Designs, $46
5. 7.5 Lbs of Wrench by Iacoli & Mcallister, $475
6. smtwtfs 02 by The Last Attempt at Greatness, $80
7. Sparkle Hunt Cushion by Satsuki Shibuya, $75
8. Shaving Cup ($141) and Brush, $95 by SRF
9. Hand-carved White Porcelain Twig by Roberta Polfus, $50
10. Little Faceted necklace by Miki & Nora, $50
Thanks for sharing your gift ideas Rena!
For more on Rena, check out renatom.net.
Tags: Gift Guides