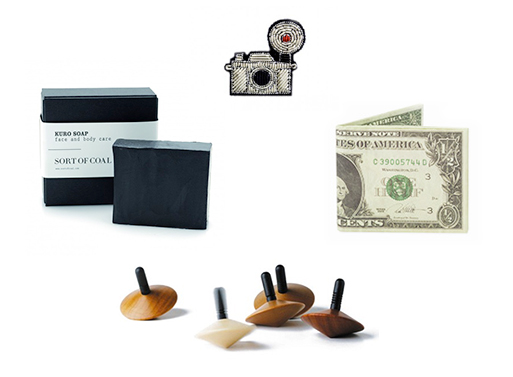 More random gift ideas for you…

Items in the image above are listed from left to right, top to bottom, just like you read a book.
1. Camera Pin (silver) by Macon and Lesquoy, $28.00. At just under an inch square, this little pin will fit on a jacket or bag perfectly.
2. Soap: Kuro, Shiro, $35.00. Kuro Soap is made with White Charcoal powder, so you could get away with saying you're giving them coal.
3. Half Dollar Mighty Wallet®, $15.00. Add a Ulysses S. Grant bill to this wallet and see your niece, nephew, or other favorite young person be pleasantly surprised.
4. Wooden Spinning Tops, $9.38 each or Set of 5 on a black base, $78.20. Not just for kids, mind you. Naef has several other classic toys/puzzles worth considering- some expensive, but pretty cool: Diamant, Versi, Cella, just to name a few.
Tags: Gift Guides, Gifts