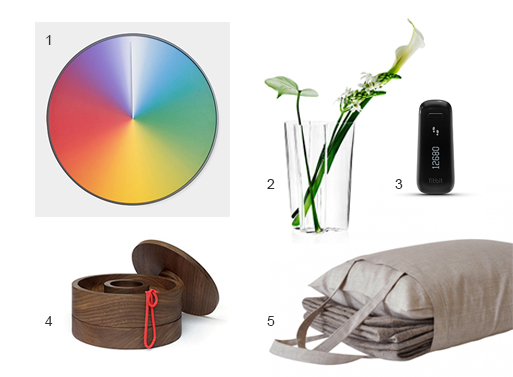 Mother's Day, already? Yep, it's just around the corner (May 8th). While you're wrapping your head around that May starts next week, you may as well look at some stuff that a mother just might like. Best order soon to make sure your gift gets there in time. Take a look at our Gifts category for more ideas.

1. The The Present Clock™: $180.00 – $200.00
2. Any size of Aalto Vase: $155.00
3. A Fitbit to track steps: $99.95
4. For all those baubles, the Box Modular Jewelry Container: $260.00
5. The Travel Blanket Pillow Set will make her next trip more comfortable: $290.00
6. I have Snowe's towels and they're very, very nice, so I can imagine their Bathrobe won't disappoint: $100.00
7. Fun Dusen Dusen Necklace: $158.00
8. An Elise Hat to keep the sun away: $58.00
9. If she likes art, she'll appreciate 30,000 Years of Art: $39.95
10. If you can't afford the life-sized version, there's always a Vitra Miniature (Thonet no.14: $315.00)
11. House Paper Weight: $70.00
12. Straightedge ueki one hand scissors: $546.00 (or a different/smaller version from Amazon for $137)
13. Any brooch or barrette by Dream Collective, ~$65.00
14. Get this Set of 4 Concrete Planters if your mother likes greenery: $70.00
Hope that helps.
Tags: Gift Guides, Gifts