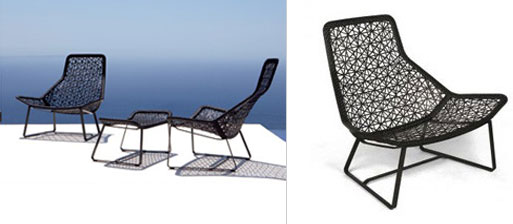 Maia Relax armchair
Written by Katie on February 6, 2009. Permalink
As usual, this chair by Urquiola is amazing.
It is made with light, modern pieces combining high-tech fiber and a narrow aluminum frame. Pieces which define their own space, transmitting energy with their shapes. Frame made out of aluminum polyester powder coated and high quality synthetic fiber hand weaved. Frame is made for outdoors and color can come in either white or chestnut. Numerous cushion options. Design Patricia Urquiola.
39″H x 37″ D x 46″ W
Base Price: $1904.00, Buy it here.