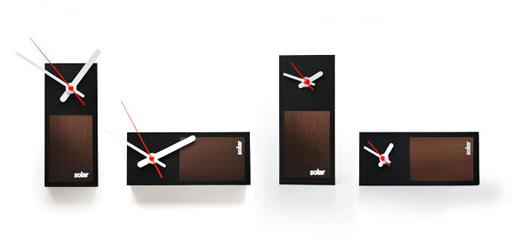 Solar Clock
Written by Katie on April 16, 2009. Permalink
No batteries? Yes please.
Like its friend the Sun Jar, this handy solar powered clock is handsome as it is practical and eco-friendly. With a smart and simple solar panel on its front it's a far cry from the days of those dodgy calculators you had to crouch under a bright light to use. But as well as being functional this little clock has a clean and unfussy design that lets you stand it up whichever way you want. To boot, its solar power means that you'll never be caught in the twilight zone wondering what the time really is after a night-time power cut.
designer:
Adrian Allen
Supplied with two sets of hands (long & short) to give you the options of wall mounted or free standing.

$49.00, Buy it here.