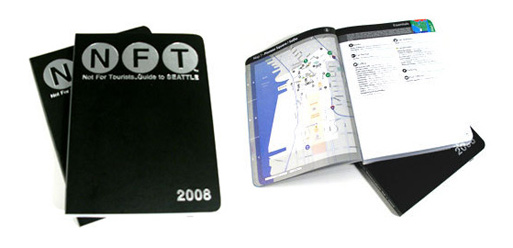 What an excellent interpretation of a guidebook- if you've lived in a city for a little while or a lot, it'd be interesting to see what things you haven't seen or done.
"Not For Tourists is a growing series of guides to major cities. Their philosophy is simple: people need to use the cities they live in, commute into, or travel to effectively. They need to use their city's transportation systems; its governmental infrastructure; its shops, restaurants, and nightspots—and they need all of this information while they're on the move in a format that's more accessible than the Yellow Pages, more informative than Zagat's, and more useful than any other tourist's guide out there."
Seattle, New York, Boston, Philadelphia, DC, Brooklyn, San Francisco, Chicago

$15.00, Buy it here.
visit Not For Tourists online.