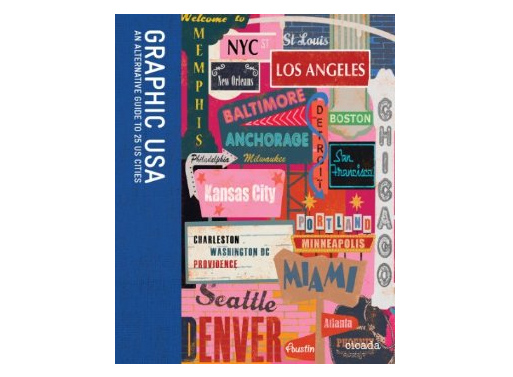 Cicada Books presents Graphic USA, an alternative guidebook to 25 American cities written and illustrated by graphic designers. Graphic USA gives you an insider's view of the best (and occasionally weird) restaurants, hotels, galleries, bars and coffee shops, all with quirky illustrations/graphics by the artists that live in each city. It's quite like reading a friend's notes on interesting places that you should see, with tidbits and paragraphs to help you along your way.

The book has been designed by Joana Niemeyer at design studio April and edited by Ziggy Hanaor at Cicada.
Here's a few pages to give you a glimpse:
The cities included in this guide are:
Anchorage, Atlanta, Austin, Baltimore, Boston, Charleston, Chicago, Denver, Detroit, Kansas City, Los Angeles, Memphis, Miami, Milwaukee, Minneapolis, New Orleans, New York, Philadelphia, Phoenix, Portland, Providence, San Francisco, Seattle, St Louis, and Washington DC.
Also available at Amazon.