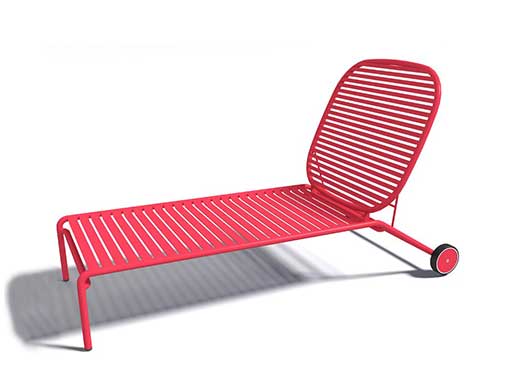 Look at this beauty. In a bright strawberry red, this sun bed will be sure to beckon you towards the outdoors this summer. Don't worry, though, if red isn't your color there are 11 other colors to choose from (including the requisite white and very safe gray). The Weekend Chair (shown below) is what originally caught my eye, as it costs $285, and that's pretty affordable compared to some of the other modern outdoor options. In addition to the arm chair and sun bed, there's also a bench, a bistro table, dining tables, a coffee table, all in the same array of colors. The collection is made with steel tubular framing and anti-UV powder coating, and the seats and tables are all stackable for easy storing during the colder months.

Designer: Studio Brichet Ziegler for OXYO

Weekend Chair, $285.00

Weekend Bench ($630)

Weekend Bar Stool ($365)
Available from
The Future Perfect
, $1,500.00.