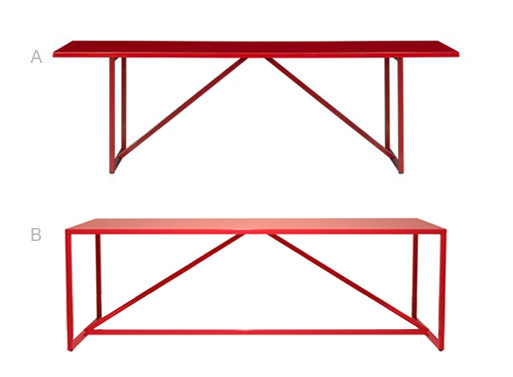 Update: Ah-ha! Blu Dot made this table for Crate&Barrel, hence the striking resemblance. See John's comment below.
We're all familiar with the occasional copy cat, and it's hard to complain when the copier comes up with something so similar at a lesser price point. Sure, there's the intellectual property argument, but as long as the item is different enough, there's no real harm done, right? (Right?)

Enter in the Walker Table, which bears a striking resemblance to the Blu Dot Strut Table, that, if memory serves correct, appeared on the scene circa '07.

Walker Cherry 95″ Dining Table, $999.00
-Low-emission engineered wood and doubled-sided melamine top
-lacquer top finish with clear protective polyurethene topcoat
-Steel base with cherry-red powdercoat finish

Blu Dot 90″ Strut Table, $1299.00
-Lacquer on engineered wood substrate with glossy polyurethane finish
-Powder-coated steel legs
You be the judge of which one wins the contest. You are the consumer, after all.
Available from
Crate&Barrel
, 999.00-1299.00.