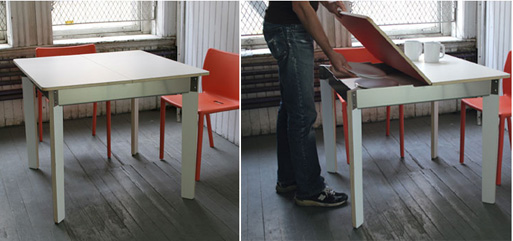 This is such a deal.
"The Worktable is a versatile storage table for more flexible living environments. The table is designed with everyday tasks in mind – eating, sewing, preparing food, drawing, crafts, computing, surfing the web, paying bills, changing babies, repotting plants, homework, and scrap-booking.
Discreet cable-routing slots in the sides and lower panels keep tangles of wires out of sight but close at hand. The worktable incorporates nearly 5 cubic feet of storage into a solid, flat-packed furniture piece."
36 x 36 x 29.75" (915 x 915 x 755mm), assembly required
birch plywood, high-pressure laminate, polished aluminum
White and Black coming soon.