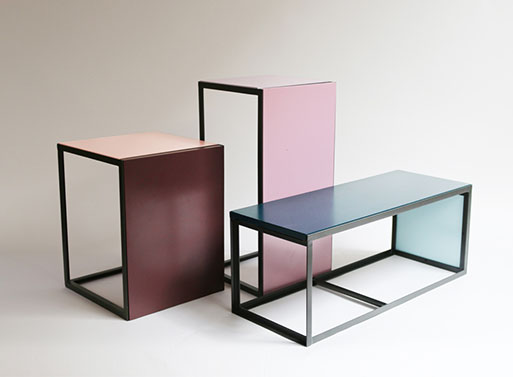 What the what(!). If you're not impressed with the subtle colors of this stool, side, and coffee table, then we can't be friends. Steel frames with tonal powder coated panels combine to create these versatile little surfaces from Slowood Studios and Hawkins New York. With their smaller silhouettes, they can easily fit in beside a sofa or bed, or nestle alongside a favorite reading chair. Choose between three different sizes and blue, pink, or peach color ways.

Small Stool / Side Table (14"³ x 14.25"³ x 18.25"³) $295
Counter Stool / Side Table (12"³ x 12.25"³ x 25.25"³) $325
Bar Stool / Coffee Table (12"³ x 12.25"³ x 30.25"³) $350
Materials: steel and wood.
Handmade in Mexico.
Available from
Hawkins New York
, $295.00 - 350.00.