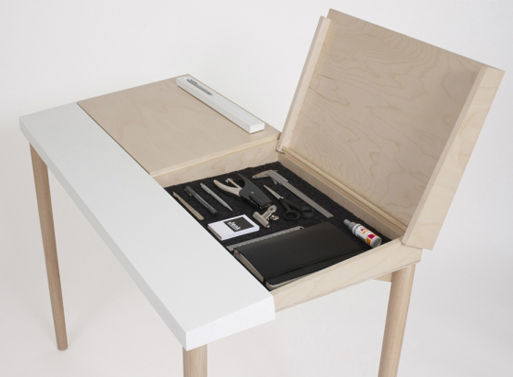 I'm really digging this new Slope Desk by British via Norway designer Thomas Jenkins.
It gestures at traditional sloped drafting tables with a downward angled surface and adds two hinged doors revealing felt-lined compartments for storage and organization. Two included wedges create a level surface for holding pens and your favorite drink. Solid maple legs support a desk surface constructed from a mix of birch veneer MDF and plywood.

I'm sure a few would disagree with me but my favorite parts of this desk are the slope and the way the hinged compartments open. It prevents any practicality of using the desk for a computer station, assigning this desk for strictly analog tasks; writing, drafting, reading.
As of writing, the Slope Desk is made-to-order. Currently it is being reviewed to be brought to manufacture.
Dimensions: W 39 x H 31.5 x D 19.7 "