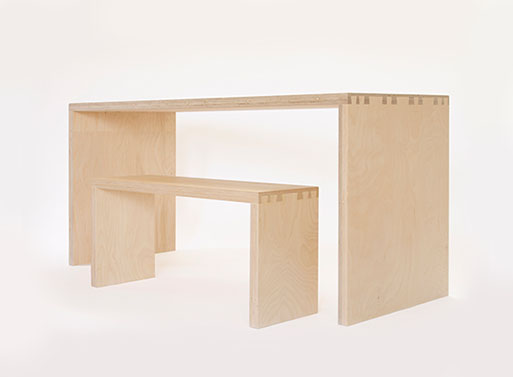 If you're looking for a super-minimal table or bench, you might like the looks of the Simone Collection by 57st. design. Double-thick Baltic birch plywood has dovetailed ends (spaced in irregular intervals) for visual interest and overall strength. The short or long bench would do well in an entryway or hallway, and won't break the bank, thankfully. Free shipping, too, just in case that sweetens the deal.


Materials: Baltic Birch with Danish soap finish (vegetable based and VOC-free)
Free Shipping
Simone Bench Short: 16" high x 36″ wide x 12″ deep, $390.00
Simone Bench Long: 16" high x 55″ wide x 12″ deep, $425.00
Simone Table: 29" high x 66″ wide x 23″ deep, $1,200.00
Available from
57st. design
, $1,200.00.