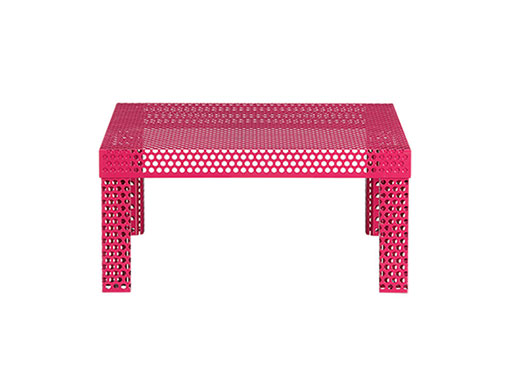 It's just what you need, isn't it, a pink*, perforated metal table? With all the recent talk of the Met's PUNK: Chaos to Couture, there's nothing wrong with straying a little from your regular furnishings and updating a coffee table, especially if that table packs a punch. And what packs a punch like a (let's say it together) pink, perforated metal table?

*As crazy as bright pink might seem, it's way better than shaving your head to get a mohawk… that might be a tad too rebellious for your workplace.
dimensions: 32″sq.x15″H
details: Created exclusively for CB2 in partnership with Robert and Cortney Novogratz
-Steel sheet construction with magenta powdercoat finish
-Dust with soft dry cloth
-Made in Taiwan
Available from
CB2
, 349.00.