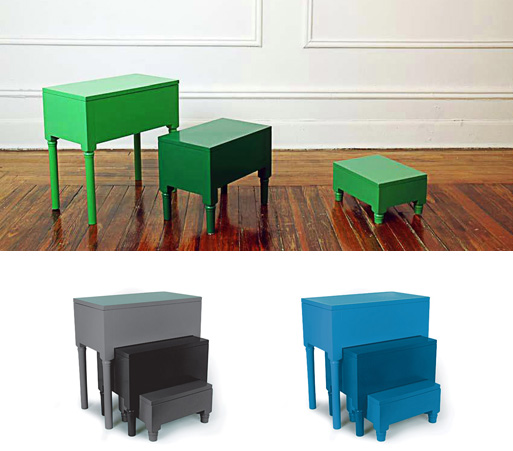 Uh, how much do you love these tables by Mr. Loebach? If you didn't say 'very much' or were stricken speechless then I don't know what to do with you. First off, they are tables and step stools, which makes them functional for small spaces, yada yada yada. Second, they are available in some of the best color choices (charcoal, green, and the most delightful shade of blue (in my opinion)). Third, and perhaps most importantly, each table/stool opens at the top (with safety hinged lids) for extra storage. Fourth, they are a little awkward in just how humble they look, and doesn't that just make you love them more? All that said, I think it's the colors that make them stand out as wonderful little nesting tables/step stools. Take note they won't ship until mid-October.
Material: Wood and MDF with safety hinges
Dimensions: 17.25 x 14 x 18 inches
Available for pre-order.
Approximate ship date: 10/15/2009

$400.00, Buy it here.
Tags: blue