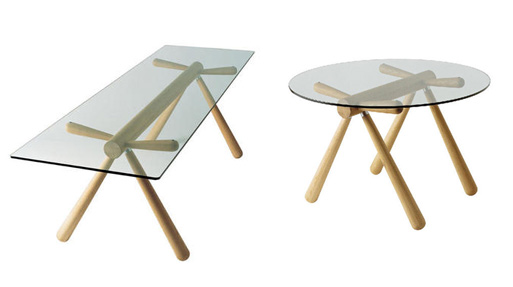 So, apparently harvesting Sugi trees in Japan is good for the environment (because they are becoming too plentiful) but not many designers will work with the wood because it's overly soft and gnarly. So, Mr. Enzo Mari stepped up to the plate and designed the very nice (and expensive) Giulie collection to help with the problem. To read more, here's an article from MetropolisMag.com entitled 'No Love For Sugi'.
Hida Sangyo was founded in 1920 and is one of the leading wooden furniture makers of Japan, based in the Takayama region. This part of Japan is known for its excellent wood craftsmanship, originating back to the 7th Century Nara period. This collection is made predominately of the beautiful Japanese sugi wood, realized with state-of-the-art industrial technology of wood compression.
Designed by Enzo Mari.
Giulie Dining Table, Rectangular, 28″H with 91″L x 28.5″W glass top: $4,050.00, Buy it here.
Giulie Table, Round, 28.3″H with 43″D glass top: $3,150.00,
Buy it here.
Giulie Coffee Table, 16″H with 53″L x 24″W glass top: $3,900.00,
Buy it here.

Also in the same wood by Enzo Mari is the Vertana Mirror, which was posted back in May of '08.