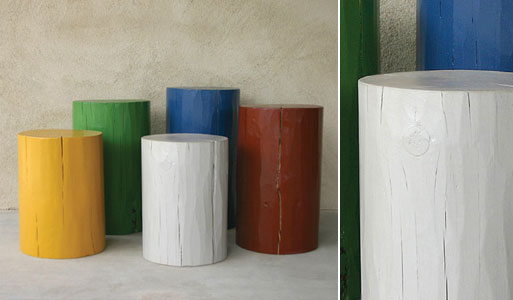 Talk about some summer colors, these stools are hand painted with a VOC-free milk paint, just like in the old days.
…the tables are made in New Mexico from locally-harvested Pine logs historically used in traditional Adobe homes as exposed ceiling beams called Vigas. Dried in a solar kiln, harnessing the energy of tomorrow, they have a 100% natural finish free of toxins. Hand-painted with a VOC-free milk paint, the hand-mixed colors, which include Federal Blue, Tavern Green, Marigold Yellow, Dove Gray, and Glazed Terracotta, are made with the same basic ingredients used during the Colonial era – milk protein, lime and earth pigments. Finished with a clear non-toxic topcoat, the tables are rubbed with a layer of an all-natural beeswax and lemon oil wood wax created by an 18th Century/Early American cabinetmaker.
12 dia x 16H inches, $219.00
12 dia x 20H inches, $239.00
12 dia x 22H inches, $259.00
Buy it here.