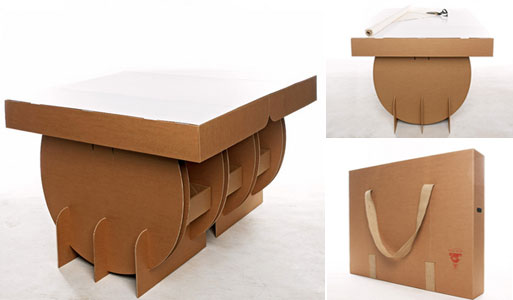 This is such a smart solution. It gets a bazillion points for being biodegradable, transportable, affordable and having replaceable parts.
…this light and sturdy corrugated structure was developed to meet the requirements of both the traveling designer and space limited student… or the traveling student and space limited designer, needing an ergonomic sturdy plane on which to cut, fold, draft, design or dine. The affordable biodegradable alternative is easily packed down at the end of your day to regain precious real estate.

Has thus far been employed as a cutting table, meeting table, dinner table, baby changing table, RPG table, and a bed. She comes with 3 collapsable drawers, Jute strap moving/storing box, laminated white surface top, and all replaceable parts.
1500mm x 1200mm x 930mm
(59″ x 42″ x 36.6″)