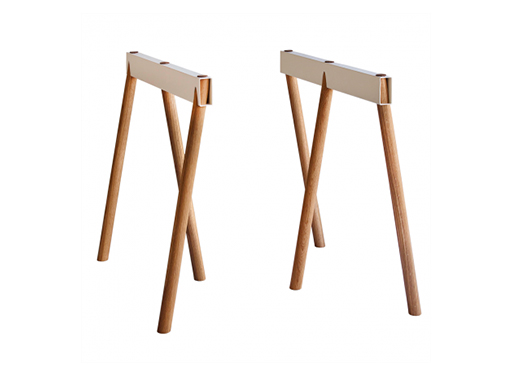 Don't get too excited; that price you see to the right is for the trestle legs only, not the whole dining table. But, hey, maybe you're excited about that price for just the trestle legs, as that means you can add whatever top you wish and have a great, portable option for your work or for feeding your face. Two pieces of laser-cut steel and six oak legs make up the Crosscut Trestle Legs set, and, as you can see from the product photo, the cylindrical legs fit neatly into the steel. Update: Now on sale from the Dwell Store for $309.99 until quantities last.


Crosscut Trestles are sold as a pair without tabletop.
Available in rust or cream.
Designer: Faudet Harrison
Design Country: UK
Material: Stainless Steel, Oak
Dimensions: 27.5″W x 28.75″H x 11″D
Updated price and link; originally posted Feb 21, 2014.
Available from
HORNE
, $435.00.