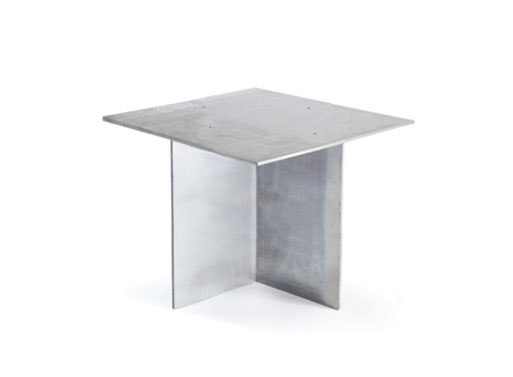 Reduce a side table down to its essentials, and you'd get something similar to the Anodised Side Table by Max Lamb. Made with three sheets of aluminium plate (or aluminum, if you prefer) locked together with four countersunk socket bolts, the low table is left unfinished to highlight the material's "inherent beauty". There's a larger Anodised Coffee Table as well as a wonderful Cobalt and Gold color.



Anodised Side Table, £876
The product is packed flat and requires very simple home assembly.
Dimensions: 400mm (h) x 400mm (w) x 400mm (d)
Materials: Raw Aluminium with steel fixtures and rubber feet
Custom Finish (price on request):
Anodised: Green, Red, Bronze, Silver, Yellow, or Magenta
Place of Origin: Gateshead, United Kingdom

Anodised Coffee Table
Updated links; originally posted Aug 11, 2015.
Available from
Deadgood
, £876.