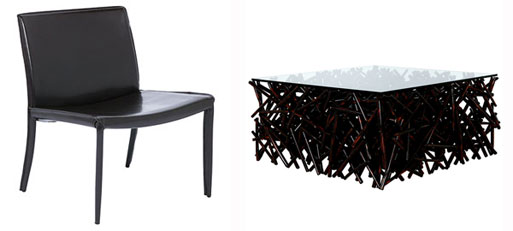 Two modern-ish items on sale…(I might say once more I firmly believe you get what you pay for, though I'm sure there are some of you that are more concerned with the price tag than materials).

Andrew Relax Chair, $189.00 $149.99, Buy it here.
Few chairs cut a slim, low-angled profile while having the kind of wide seat support that lets you settle in. Fewer still manage to be slender and inviting without hogging space. The European-style Andrew Relaxer does it all with a lineup of unbeatable qualities, from gently curving lines, rich chocolate
bi-cast leather to an elegant profile suitable for any room.
24″W x 23.5″D x 28.25″H (15.5″H Seat)

Twig Coffee Table, $499.00 $349.99,
Buy it here.
Frame is hand crafted of solid rattan stems. Each piece is nailed together by hand and then carefully assembled by the artisan. No two are alike. Each rattan stem is individually finished with a nitro-cellulose lacquer topcoat prior to assembly in a multi-step process. Glass top is .5" thick with a straight edge.

Dimensions: 38"W x 38"D x 18"H
[posted by katie]