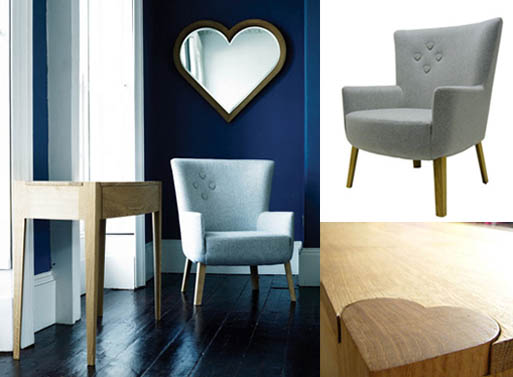 Just in time for February, these pieces incorporate the heart in clever touches and shapes.
The 'Love Collection' is an exciting new capsule range that bears all of the classic Deadgood trademarks including an exceptional design style, an uncompromising commitment to quality and an eccentric, tounge in cheek twist. Handcrafted in solid oak the range includes a heart shaped mirror with bevelled glass detailing, a 100% pure wool upholstered lounge chair, featuring heart shaped buttons and an oak console table with heart shaped leg joints. The oak is subtle enough to let the design of the pieces speak for themselves whilst the wool perfectly complements the raw finish of the timber.
These products will be available to purchase online from 1st February
Mirror: 850 (h) x 900 (h) x 50 (d) £299.99
Console Table: 750 (h) x 1050 (w) x 400 (d) £499.99
Upholstered Lounge Chair: 900 (h) x 700 (w) x 600 (d) £899.99
preorder here.
[via Livingetc.]