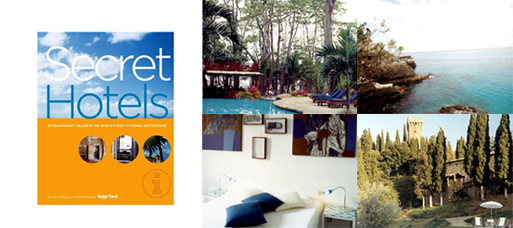 Secret hotels around the world that usually cost less than $200/night? I think I'm adding this book to my 'need' list.
Compiled by the editors of Budget Travel magazine, this out-of-the-ordinary guidebook acquaints you with an enticing array of lodgings—from beachside cottages, to hilltop villas, to gracious, family-run guesthouses—where you'll vacation in comfort and style without having to worry about breaking the bank. Setting its sights on eight of the world's top travel destinations—Provence, Tuscany, Tahiti, the Caribbean, Costa Rica, Cornwall, Bali, and the French Riviera—Secret Hotels scopes out the hidden treasures that, till now, have mostly been known only to the locals. The description of each hotel is accompanied by sumptuous color photos of the grounds and interiors, and contact information and rates (usually less than $200 per night) are provided.
$15.61, Buy it here.