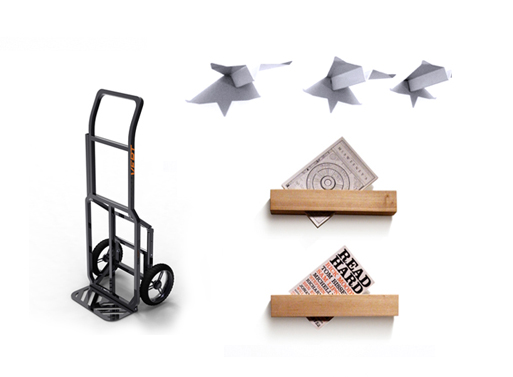 Have you checked out ideacious? It's similar to Kickstarter in that creators post projects that need backing for manufacturing, and buyers order products that are currently available or 'pre-order' a product before it's made. However, if a buyer pre-orders an item, that's an opportunity to invest and possibly make some money once it goes into production. Read their how ideacious works page for a better explanation. Here are three things that caught my eye:


Convert by Joshua Brassé
Retail price: $590
Status: 197 preorders available
"Convert your bike into a workhorse. Strong, stable and secure, it changes from a trailer to an upright dolly."
Jet Set by Rob Southcott
Retail price: $39
Status: 497 preorders available
"A signature mix of playfulness and functionality, these hooks add interest and utility to any space. Comes in a set of 3."

Foreword by Karen King
Retail price: $24
Status: 280 preorders available
"A minimal, single-serve shelf, Foreword keeps your favourite title within reach. Hang just one or in multiples."
Available from
ideacious
, .