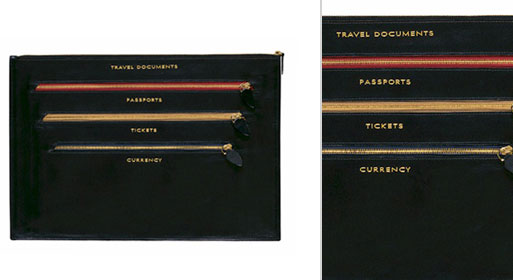 Family Travel Case
Written by Katie on January 14, 2008. Permalink
This briefly makes me wish I had children so I could justify dropping major dollars on a travel case. (Just kidding.)
Slim leather case with four zipped pockets.
– Soft black calf leather case.
– Zipped pockets gold stamped 'TRAVEL DOCUMENTS', 'PASSPORTS', 'TICKETS', CURRENCY'.
– The case will fit up to five passports – perfect for keeping family travel documents handy, yet lightweight enough for use on business trip.
9″ x 13.3″ / 34cm x 23cm.