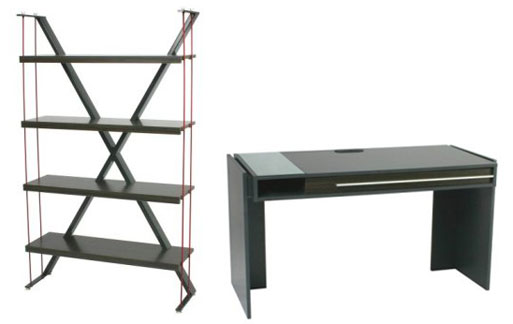 Sami HayekTM for Target
Written by Katie on June 13, 2008. Permalink
Well, hopefully you know that usually you get what you pay for when it comes to furniture. With that said, this decent (looking) desk and bookcase cost under $150 each, and when you're on a tight budget, that's music to the ears.

Sami HayekTM Bookcase, $129.99, Buy it here.
-Made of Metal in Powder-Coated Gray Finish
-Frame Features Sturdy Platform Base
-Cross-Bar Support, Chrome Hardware
-Assembly Required
-Dimensions: 37.25 x 11.75 x 60.25″

Sami HayekTM Desk, $149.00, Buy it here.
-Made of Wood Composite in Melamine Gray Finish
-Frame Features Squared Pedestal Base
-Satin Nickel Pulls
-Assembly Required
-Dimensions: 52 x 23.88 x 30″ "; Drawer/Basket Dimensions: 35.75 x 16.35" "; 52 x 23.88"
(Also, you can get 15% off when you spend $125 or more on furniture at Target.com