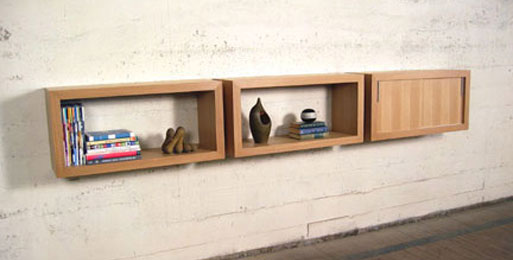 Plateau Wall Box
Written by Kris on November 8, 2007. Permalink
These hand made white oak or black walnut wall storage boxes can be customized to customers specifications.
They are made with traditional construction techniques with mitered joints.
"The Plateau Boxes are designed to frame objects in a natural, unobtrusive environment. Because they are blindly fastened to the wall, the boxes —and the objects they hold— exhibit a unique lightness of form. Each box is independent unto itself, so users can apply their creativity to configure the boxes on a wall.
Available in black walnut or riftsawn white oak, with sliding door and shelf options. Custom size and proportions available upon request, please call for details."
med; 37" w | 12" d | 16" h
large; 37" w | 12" d | 18" h
[posted by kris]