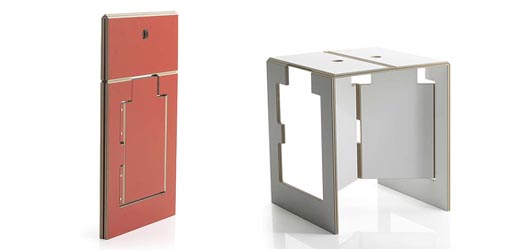 Falter Folding Stool
Written by kris & katie on October 2, 2007. Permalink
Reposting because it's now $120 down from $198! I love these and I want a couple to hang on the wall for all my impromptu parties.
"Folded a million times in testing, the Falter Folding Stool is uniquely durable for such a lightweight form. The material used in its manufacture is 3F board, which is a foldable material made with a pliable middle layer between two wooden boards. This middle layer acts as a sort of swivel pin and allows the Stool to be made without hinges. The Falter Stool opens with just one hand, quickly providing a sturdy seat that holds up to 300lbs. When the versatile Stool is not in use, it folds up to a thickness of less than an inch and can be stowed in a cabinet or hung on a wall. "
This innovative design received the Friedrich-Sulzer Design Award in 2002, the Sächsischer Staatspreis for Design in 2003 and a nomination for the Federal Award for Design in 2004. The 3F board material has also received accolades, including the Federal Award for an outstanding innovative handicraft achievement in 2003.
Available in black, red and white.