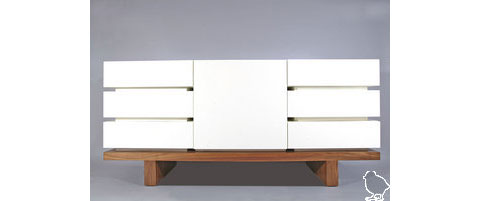 3-Wide Dresser
Written by kris & katie on October 2, 2007. Permalink
I suppose this is meant for a nursery, 'cause that's what it says on the site, but really I'm thinking it could be for any room that you need storage. Six drawers flank the middle door that holds a hamper (that you can buy with the dresser) or an adjustable shelf. And, if that's not enough for you, you have your pick of carving options and base wood color as well. Available in Cotton Candy, Pond, Slumber, or Snow.
Lacquered MDF and birch.
66 W x30 H x19 D
Dark or ligh birch platform options.
(This item's link and price was updated 11/19/09.)