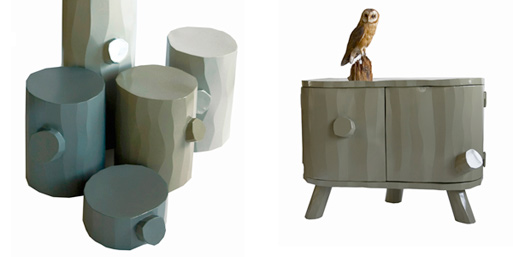 Stuffed Stools and Cabinet
Written by Katie on April 8, 2009. Permalink
Made from steel plate, these stools and cabinet have a semi-cartoonish feel about them and in this particular case, that's a very good thing.
Gentleman's chamber 1953 is a fusion of nature and interior, traditional elements from a gentleman's chamber are brought back to their essence and are reinterpreted from the point of view of the animals. This stool is made out of tree trunks or that how it appears to be. On a closer inspection you will notice they are actually made out of steel plate.
Brand:Snodevormgevers
Designer:Josef Blersch and Mander Liefting
Material: Steel plate
small: 35 cm x 35 cm x 20 cm., €199.00,
Buy it here.
medium: 35 cm x 35 cm X 40 cm, €319.00, Buy it here.
large: 25 cm x 35 cm x 70 cm, €367.50, Buy it here.
cabinet: 100 cm w. x 70 cm h. x 43 cm d., €3250.00,
Buy it here.
[via dwell]