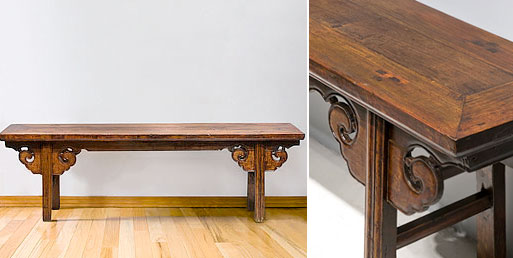 Carved Bench
Written by Katie on July 15, 2008. Permalink
The only thing that keeps me from labeling my design style as full-on modern is my slight obsession with all things antique, or maybe not all things, because there's some pretty hideous furniture out there, but a fair portion at least. This bench has that ever-intriguing antique look along with the nice bullet point of being built from reclaimed wood salvaged from Korean farmhouses. It looks like the perfect companion to an empty entrance hall.
"This carved wooden bench features classic spiral patterns skirting the base of the seat and a beautiful patina.
The surface is smooth to the touch…"
74″w x 15″d x 22.5″h (exterior)
$650, Buy it here.