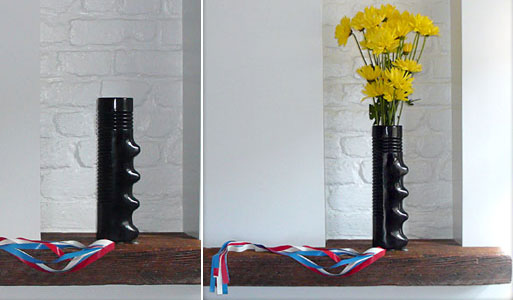 Stingray Vase
Written by Katie on October 24, 2008. Permalink
Ah, the memories. I'd opt for no streamers, but that's just me…
There were lots of ways to get around when we were young…pedal cars, roller skates and skate boards all come to mind. But from the banana seats to the baseball card spokes, nothing beat the classic bikes from the seventies. In honor of those hot wheels, we present the Stingray Vase, sure to bring back memories of every wheelie you ever popped. Hand-sculpted to resemble a handlebar grip from those classic bikes, this 14″ tall beauty looks great on any shelf, and is guaranteed to start up a conversation. Comes with removable streamers!
Colors: Black vase w/choice of red, white, blue, black, or mixed streamers.
Materials: Polyurethane rubber shell
14″ tall w/4″ diameter

$120.00, Buy it here.