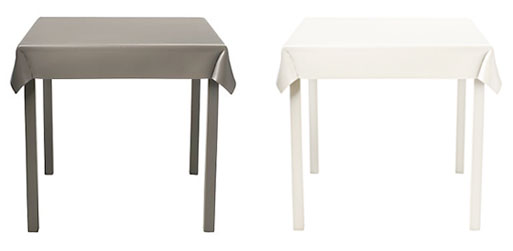 Cloth Table by Gerard der Kinderen
Written by Katie on June 25, 2008. Permalink
This tongue-in-cheek table can be used indoors or out, thanks to the polyurethane finish.
The innovative and intriguing Cloth Table is one of 20 furniture designs developed by Gerard der Kinderen in 2007 after two decades as a creative director in the communications industry. Topped with a 'cloth' made from a durable, flexible combination of polyether and polyurethane that is both soft to the touch and ideally suited to outdoor living, the table was selected as the Official Table for Tokyo Designers' Week 2007.
W29.5 x D29.5 x H29.5 in.