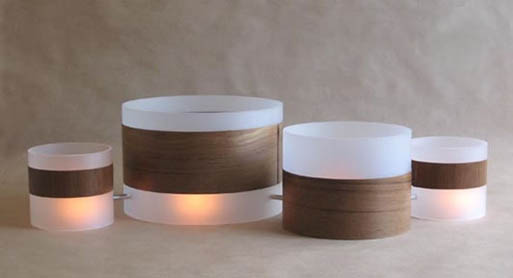 Legna Pod lighting by jefdesigns
Written by kris & katie on October 2, 2007. Permalink
The legna pod votive is made from remnants of the legna lamp.
"The pod votive adheres to the principles of jefdesigns: clean, minimal, and organically modern. Hand-fabricated by the designer of open-ended, bottomless frosted acrylic tubes, wood veneer and aluminum hardware, each piece is unique and quantities are limited. Pod votives are made to order and ship in approximately 1 week.
The Legna Pod votive is intended for use in dry conditions with tealights only. If necessary, the acrylic may be cleaned with a wet cloth. LED tealights, a greener alternative to conventional candles, are ideal and sold separately.
Available in single, triple and quad configurations. All dimensions are approximate. Actual wood is used so expect variation from samples shown
Veneer options: teak,zebrawood,rosewood,bamboo."