Surfers, this one is for you, though I suppose anyone living in a rather cold or wet climate might want to pay attention too. This is an all-weather gear bag with welded seams and a water resistant zipper to keep water completely in (or out, if that's the case). Surfers, stand inside the bag to remove your wetsuit, then zip it up for your trip home. Sand and seawater will be safely contained within. It looks like it's large enough for ski boots as well, but you might want to double check the dimensions.

Designed by BAGGU and Pilgrim Surf and Supply.
18 oz. Vinyl. 14″ shoulder strap drop. 6″ hand strap drop. 30″ wide, 13″ deep, 16″ tall. Exterior pocket. Hose down and hang dry.
Made in the USA.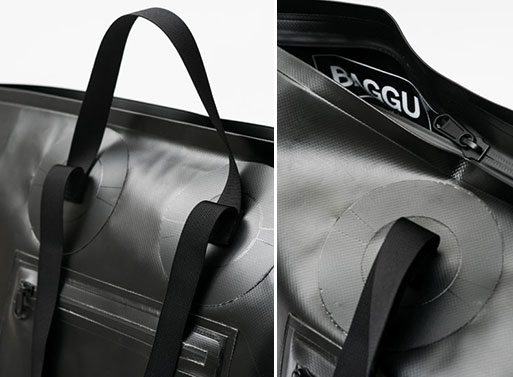 Available from
BAGGU
, 120.00.