Pingpong anyone? Imagine Thanksgiving around this table: a nice dinner with the family, then bring out the net and it's every man/woman to him/herself. The first serve goes straight into the mashed potatoes (if there's any left), hitting your Aunt Rose (accidentally, of course, she got in the way when she was clearing the dishes) with your best backhand stroke because you can't let [insert annoying relative] win, etc.
All this fun can be had with the Bola Service Table, a standard-size pingpong table that doubles as a dining table. And- it gets better- this table is appropriate for both indoors and out. A hidden drawer keeps the net, balls, and paddles tucked away when not in use with a little extra room for napkins and a tablecloth.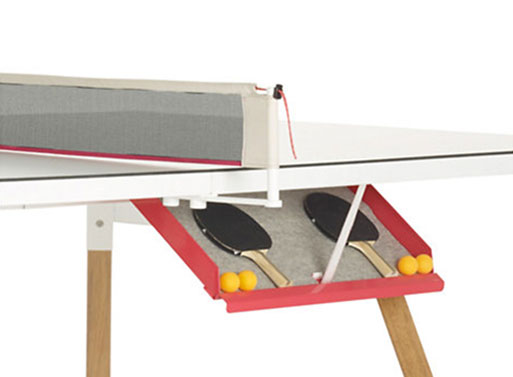 Includes two paddles and six balls. Made in Spain.
Designers: A.P.O. (Antoni Pallejà and Júlia Polbach)
Materials: Steel frame and hidden drawer with painted finish; compact high-pressure laminate tabletop; iroko wood legs; high-strength polyester net.
Measurements: H 30″ W 108″ D 72″