Nice. DWR has picked up the Firepit by John Paul Plauché of Plodes Studio. It's one outdoor accessory I've long admired, and if I had the space (and money) I'd buy it in a heartbeat. Handcrafted of durable carbon steel, this Firepit also has two tops to enhance its function: a wood top for coffee table use ($160) and a grill top ($175) to make food a part of the party.

Designed by John Paul Plauché of Plodes Studio.
H 14.25″ W 30.75″ D 30.75″
-Outdoor wood burning fire pit
-Carbon steel
-Rust patina finish
There's two options for the steel:
"The Corten Steel Firepit ($1,675) is made of a metal designed to rust to a point, and then that rust becomes a protective layer.
The A36 Steel Firepit ($1,195) is made of Carbon Steel, a metal that will continue to rust and peel.
Both metals will produce runoff that will stain adjacent materials like stone and concrete. The Corten Steel will produce less of this runoff."
Support BLTD by buying the Geometric Firepit at DWR.
Firepit Grate Top, $175.00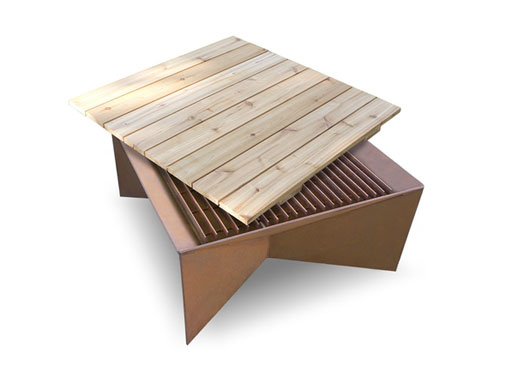 Firepit Wood Top, $160.00