If you would like a more established tableware set (i.e. nicer than what you bought at IKEA), you could do a whole lot worse than this set from Heikki Orvola. If you're a complete dinnerware-obsessed nutcase*, you might recognize the 24h series, which Orvola designed for his own use. While perhaps the collection didn't necessarily need improvement, Finnish designer duo Helorinne & Kallio added a little pep and pizazz (for lack of a better term) with the blue brushstroke pattern.

*Just kidding; if you recognize it, good for you.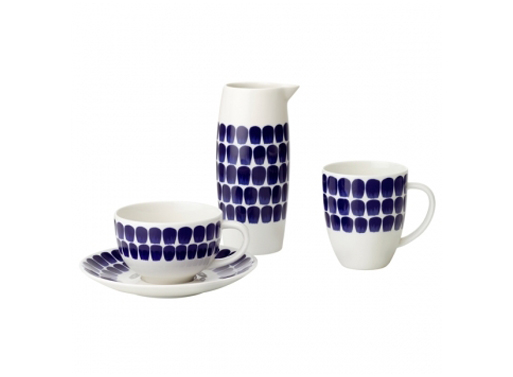 Manufacturer: Arabia
Design: Helorinne & Kallio, Heikki Orvola
Material: Ceramic
Color: White, cobalt blue
Arabia 24 h Tuokio coffee / tea cup, $21.00
Arabia 24 h Tuokio deep plate 18 cm, $29.00
Arabia 24 h Tuokio mug 0,34 L, $26.00
Arabia 24 h Tuokio pitcher 0,5 L, $47.00
Arabia 24 h Tuokio plate 20 cm, $23.00
Arabia 24 h Tuokio saucer 17 cm, $16.00
Available at Finnish Design Shop.